Why are touchscreen stereos are so popular? In this article, we'll discuss the benefits, cool factor, and safety concerns of large stereo displays.
Why put a large, touchscreen stereo in your dash? Fantastic looks are a great starting point, but there's so much more you can get from a big screen stereo. You can see all the information you need at a quick glance, letting you get your eyes back on the road faster. You'll also have expansion options like smartphone integration, navigation, and additional cameras available to you.
Touchscreen receivers come in three styles:
double-sized (4" tall) in-dash receivers, the most popular style
space-saving, 2"-tall receivers with flip-out screens
the rapidly growing category of "floating" touchscreen receivers
But, it's all about the screen real estate and what it can show you. The large display and touchscreen controls make it easier to do anything on the stereo. Let's talk about some ways to get the most out of a touchscreen receiver.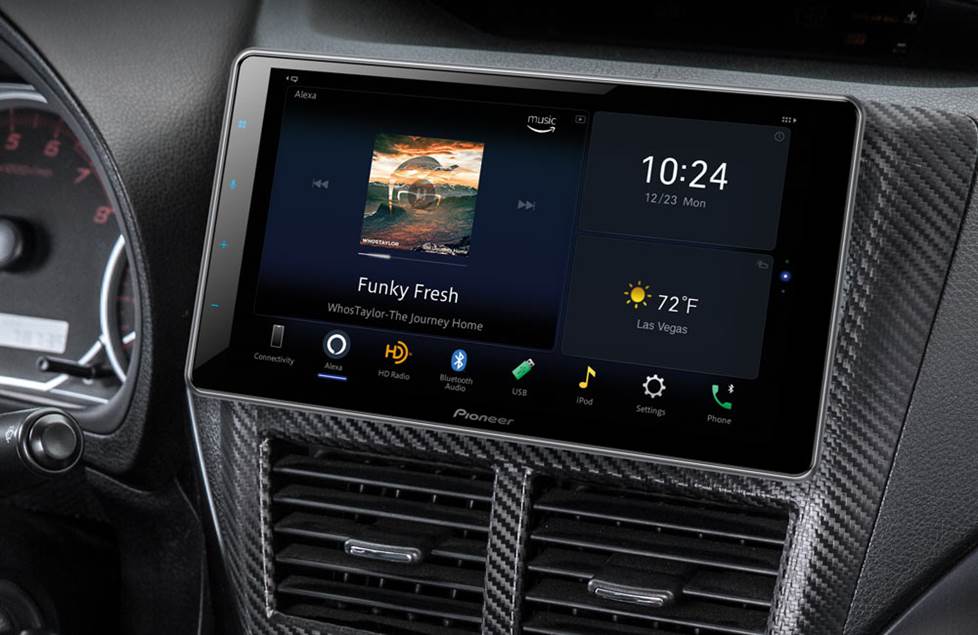 "Floating" touchscreen stereos, like this Pioneer DMH-WT7600NEX, are becoming more popular for their larger display area and cool looks.
Nice, big display and phone support
With a large screen acting as your receiver's display, it's a whole lot easier to read than the single-line displays of traditional car stereos. You can quickly see what's playing, who's calling, and where you're going.
Many of these receivers offer the functionality of Apple CarPlay™ and Android Auto™, which emulate your smartphone experience right on the receiver's touchscreen display – great for keeping your phone out of your hand.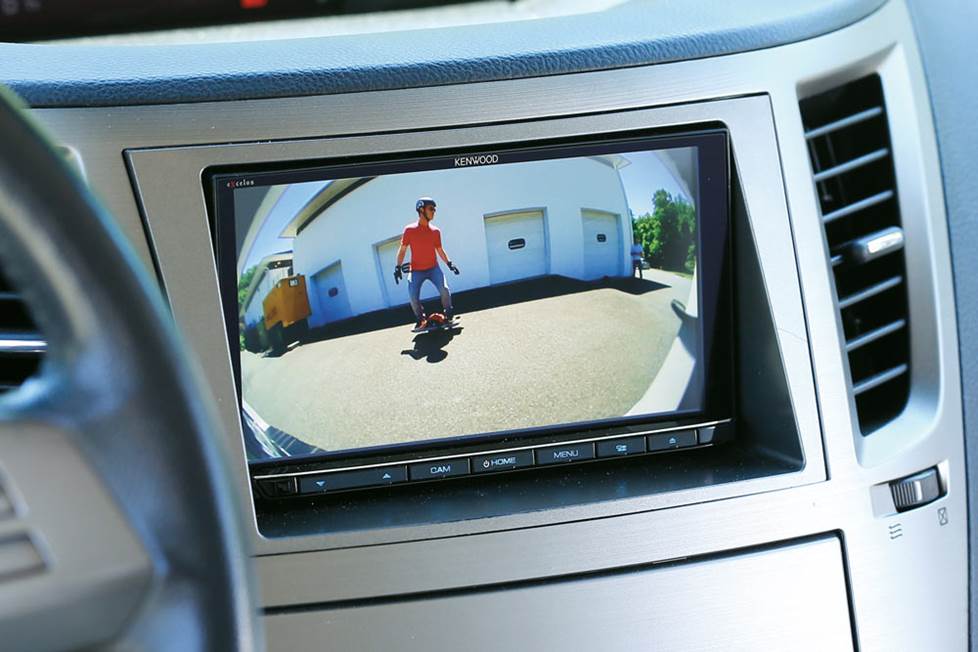 Adding a rear-view camera to your touchscreen stereo provides a better, wider view of what's behind you.
Add a camera (or cameras) for safety
A rear-view or backup camera can help make your touchscreen stereo a valuable tool for staying safe while backing up and to help avoid accidents. Its wide field of view offers a whole lot more of what's behind you than using your mirror, including areas that your vehicle's body blocks from view. Many new stereos also offer multiple camera inputs, so you can incorporate factory cameras or add aftermarket cameras for areas like your side view – all viewable on the touchscreen display.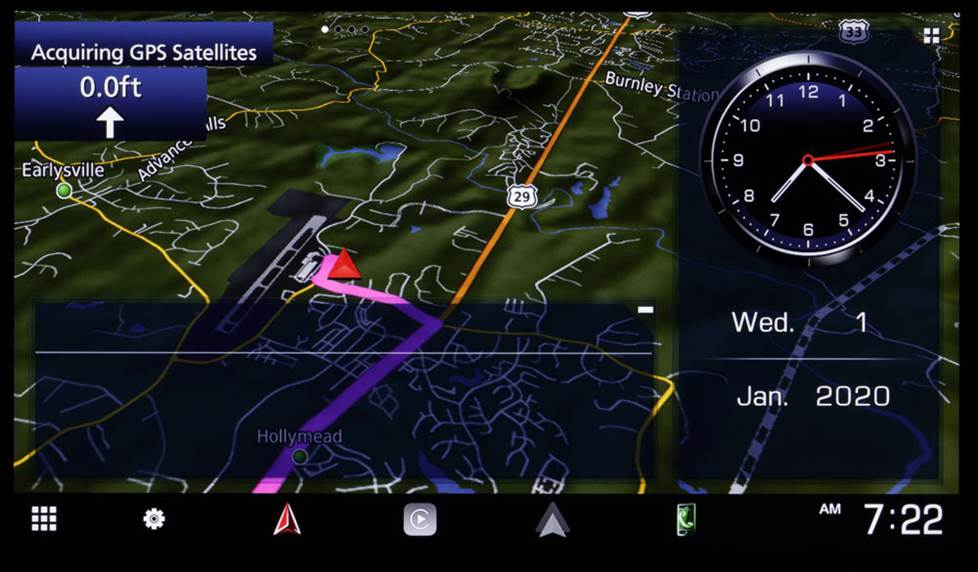 Imagine all your navigation data on a 10.1" "floating" display, like the Kenwood Excelon DNR1007XR receiver with built-in navigation.
Onscreen GPS navigation
Are we there yet? Touchscreen stereos with built-in GPS navigation offer incredible convenience and assistance. But if you don't want to spend the extra money for built-in navigation and future map updates, look for a touchscreen stereo that has Apple CarPlay or Android Auto. Both of these options get your smartphone involved to use navigation apps, such as Waze and Google Maps. They appear beautifully on the stereo's large display.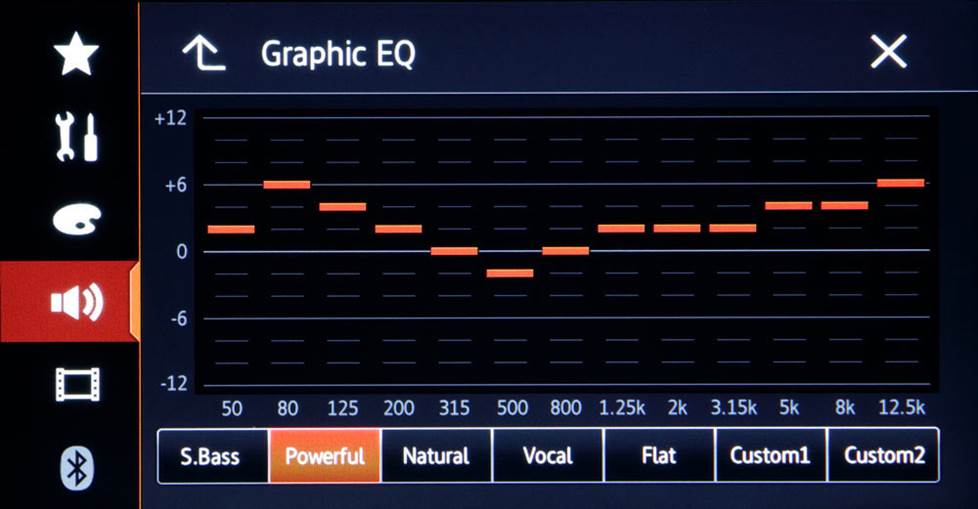 Larger touchscreen displays also let you clearly see and adjust your sound settings quickly.
Customizable and informative display
In addition to the music and caller info that you can see on the display, many touchscreen receivers let you customize the background and layout. So not only can you make a personal statement on the look in your dash, but you can organize the functions that you use the most.
When you're looking for that perfect sound, you can dive into a receiver's tone controls and see them clearly (while parked). We also offer iDatalink Maestro interfaces for many vehicles that can show off vehicle diagnostics in your vehicle, depending on the receiver you choose. It can even include climate controls in some vehicles.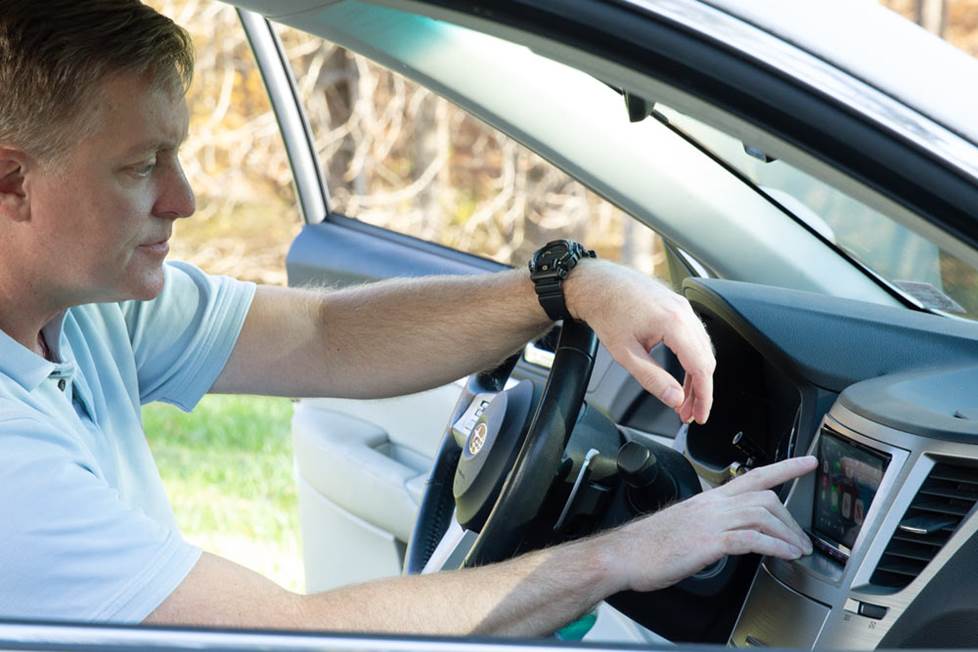 Take some time to make adjustments on your touchscreen receiver before you hit the road.
Worried about the safety aspect of touchscreen displays?
We've heard comments from customers who worry that touchscreen receivers are a distracting hindrance rather than a help. And hey, we get it; we're on the road, too. Here are some keys to using them safely (and maybe some things you didn't know about):
Adjust your screen settings before you drive. In the excitement of installing and turning on a new receiver (which we completely appreciate), some people will hit the road and try to adjust the settings on the fly. Simply put, don't. In fact, most touchscreen stereos won't let you access the menus while the car is moving. Before you put your vehicle in gear:

Set the display the way you want it. That includes the contrast, backlighting, dimming, and variable color controls. Sure, you can reset them later if you need to…while you're parked.
Set the functions you use the most for easy access before heading out on the road.
Call us with any questions you have about setting up your receiver. When you buy from Crutchfield, you get lifetime tech support, which includes helping you figure out the controls and set up.
Read the owner's manual. Yeah, we know…just had to say it.

Turn off the display. A busy display can beg for attention, but you can turn it off when not needed.

 

 

There's usually a one or two button sequence that can disable the display completely and quickly. The audio still works, so your music will keep playing, and navigation apps can still tell you where to go. And it'll automatically turn back on when you touch it.

 

Get used to the controls. Many folks have mentioned that there are no "muscle memory" buttons and knobs on touchscreen receivers that can be reached without looking, which is a great point. But many models actually do have handy knobs or easy-to-find toggle buttons for volume control or other important adjustments. Some of the knobs are multi-functional for a variety of settings, not just the volume.

JVC incorporates a feature called "Gesture Control" for simple, quick controls for less distraction.

Some receiver makers provide for some simple "no-look" controls on the display itself. For example, JVC's "Gesture Control" lets you swipe the touchscreen display to the right for track forward, left for track back, and a circular motion to adjust the volume – all with your eyes still on the road.

Keep your steering wheel controls in play. Since you're probably already familiar with these factory controls, why not use them with a new receiver? We offer steering wheel control (SWC) adapters for a wide variety of vehicles and receivers. In many cases, you can actually program more functions you'd use more often into your controls.

With my factory steering wheel controls linked to my touchscreen stereo, I keep my hands on the wheel when pausing a song or turning up the volume.

Example: I programmed a "Pause" on my steering wheel controls to simply stop the music without reaching for the screen. It's great for keeping my eyes on narrow drive-thru lanes.

Take advantage of voice controls like Siri and Google Assistant. While talking to your stereo can seem a little weird at first, they really do help in finding you info on the fly without a lot of distraction. Read more about voice control in the car.

Add a compatible remote control. Many touchscreen receivers work with a trusty handheld remote control. Sometimes it's included, sometimes it's optional. For example, once he learned the remote button layout, my Dad loved using the remote to control his stereo without looking at or touching the stereo. This from a person who asked "Why do I need a remote control for a car stereo?"

Know the driving laws in your state. It's a good idea to reach out to your local governments to see what the rules are governing smartphone and touchscreen display use. Read our article about phone safety in the car.
Definitely worth a look
Regardless of which one you choose, the elegance of a touchscreen receiver makes them fun to use and incredibly handy. Use our handy vehicle selector tool to see which stereos will fit your vehicle. And our Advisors are available by phone or chat to help you choose the right touchscreen receiver for you.